Essex General Branch
The Essex General Branch was established in 2003 to support Equity members living in Essex.
  AGM 2020, Headgate Theatre, Colchester

We have always aimed to be inclusive and embrace all types of entertainer. Punch and Judy Professors, Puppeteers, Story tellers, Actors, Dancers, Directors, Circus artistes, Vocalists, Opera singers, Music Theatre performers, Radio presenters and Variety artists of all kinds are part of our wide ranging membership. Although most members attending our meetings to date have tended to be performers, we actually welcome any Equity member, whatever your creative profession and feel that your input and presence is equally as important and of value.
We have a small, approachable, caring and friendly committee who are themselves like our non-committee members a varied bunch of artistes/creative professionals and semi-professionals. We meet regularly in addition to attending/running the branch meetings, and also arrange networking, social events, workshops and more for our members, as well as attending and reporting back on various meetings and conferences etc. The committee has even been a winner at the Chelmsford TUC quiz night.
If you have time and an interest in joining the committee, get in touch!
One of the main tasks for our secretary and chair is to disseminate information of particular relevance and importance from Head Office [Guild House] and received from other sources, including information on campaigns, reports, concerns and successes etc. This is done mainly at our branch meetings & also through our newsletters.
You will always find some current information on these pages & on the main Equity website [https://www.equity.org.uk].
We have added Facebook and Twitter to our online presence and welcome our members using them.
Primary general meetings on Saturday mornings in our County City of Chelmsford. Trinity Methodist centre. See Events
Online during Lockdown & hopefully Other venues around the County in 2021 as advertised
On occasion we also arrange meetings at other Essex venues more accessible to those away from the centre of the County, e.g. The Mercury Theatre, Colchester or the Headgate Theatre.
Additionally we have regularly arranged workshops, specialised courses and interesting speakers, including Equity's President plus the General Secretary Christine Payne, talks on Shakespeare, Historic costumes, IT, Theatres, ROH workshop visit and more.
We promote at least two social get-togethers a year - a Christmas meeting with In House entertainment, and each summer we have also enjoyed Garden Parties with members entertaining, River Boat trips, meals out and Theatre visits, notably ROH Thurrock Workshop tour and Frinton Summer theatre to name just a few.
The Branch launched a successful outreach programme to the community and local members with a Showcase - Selection Box at the Fold Billericay. This included afternoon programmes for younger audiences and and evening of variety all provided by member of Essex General Branch. Press and local radio gave good coverage here. More recently we have been looking at ways to increase our membership, including younger members and to support Equity's campaigns.
For dates and details about up and coming events and meetings please click on News and Events.
The Branch has presented 6 Motions to the annual conferences:
One on Branch structure for the future, presented at the 2011 ARC Conference. A further Motion was presented by Chair - Dee Mardi and Vice Chair Brian Eastty at the May, 2015 ARC. In 2018 a very successful Motion on the protection of female performers and their rights was also proposed by Dee Mardi and spoken to by Danny Worthington. We have been able to send 2 Representatives plus an observer in 2013, 2104, 2015, 2018 &2019. Observers and Participants report to the branch on the motions and notable happenings. The last Motion was presented in 2019 by the Chair and Vice Chair in support of the Online Branch at the Belfast ARC.
- - - - - - - - -- - - - -- - - - - - - -- - - - - -- - - - - - - - - - -- - - - - - - - - - - -
Equity has a vital network of branches throughout the UK which give members a voice in the union and much more. Branches hold regular meetings in their local area and all members and student members are invited to attend these to share views and experiences, discuss issues that are of importance to them and put proposals to Equity's ruling body - the Equity Council. Branches also organise a programme of social events and raise money for local charities.
If you are an Equity member or student member based in the area you are able to join the branch (no charge) so please get in touch with Secretary Steve Moriaty -
essex-general-branch@equity.org.uk
www.facebook.com/essexgeneralbranch
If you are a member or student member visiting the area you are very welcome to drop into the next branch meeting and get to know some of your fellow members.
In short, Our aim is to be always helpful, friendly, inclusive and professional in all that we do, supporting Equality, Health and Safety and the Non-bullying ethic of Equity.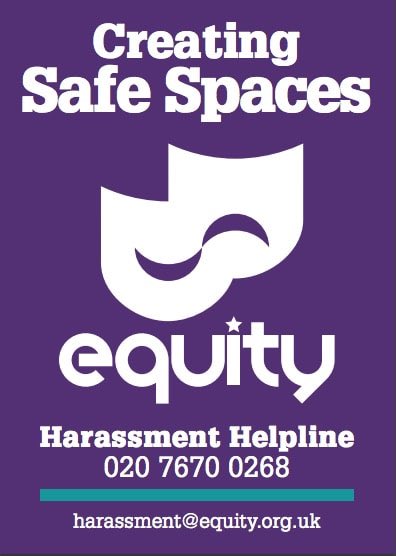 Documents