Welcome to the East Anglia Branch!
Events and Meetings
Nominations open for new Branch Committee
Deadline: 4th September 2023 at 12noon.
Be part of your Union and help grow our Branch! No previous experience is necessary.
Download the nomination form here
For more info Email our Area Organiser.

Launch of the East Anglia Drag Network
Monday 18th September 2023, 6.15pm at Norwich Theatre Playhouse or online via Zoom.
RSVP here

Annual General Meeting (AGM)
Monday 9th October 2023, 2pm at The Maddermarket Theatre or online via Zoom. Includes new Branch Committee elections.
RSVP here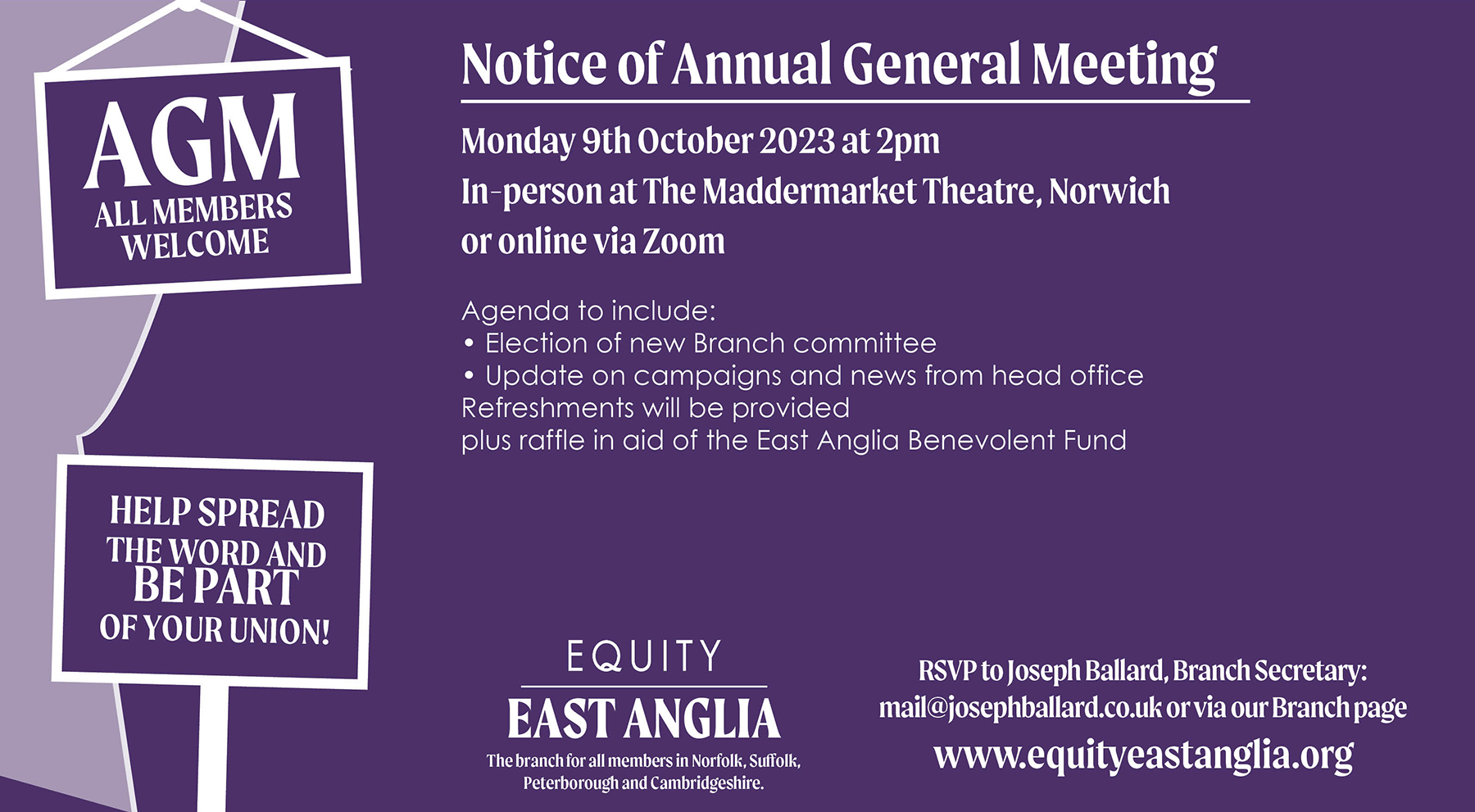 RSVP for the AGM
Do you receive regular newsletters from us, your local Branch, by email?
If not, check the settings in your profile via the Equity website. This means you have to sign in with your Equity number and then change your settings.
Branch Newsletter and updates
You can also send us your email address direct to make sure you're kept up-to-date. Email Joseph
The Committee
The current committee, up until our AGM on 9th October 2023, is:
Branch Secretary: Joseph Ballard Email Joseph
Chairman: Phil Segon
Treasurer: The Amazing Anthony
Deputy Chairman: Norman Fisher
Assistant Secretary: Giovanni
along with Maureen Rogers, Honra Simms, Jake Ace, Crazy Corin and Razz the Clown.
Helping members in need
The Branch administers different regional funds to help members in financial need.
These are:
East Anglia Branch Benevolent Fund, the general fund to provide financial assistance to members in need.
The Region's Variety Artistes' Benevolent Fund, to help Variety Artistes.
The Peachy Mead Memorial Fund, to help and support emerging performers with career development in mind.
To apply for any of the above - for yourself or a fellow member - or ask for more information, contact our Branch Secretary.
Email Joseph

Members are also advised to contact Head Office about Equity's main Benevolent Fund. Read more
History of the Branch
The Branch originally began as the East Anglia Variety Branch in 1983, with Peachy Mead as founding Branch Secretary. Peachy served as Branch Secretary til he passed away in 2021. You can read more about Peachy and his career here.

The Branch used to host a number of Variety shows to raise money for the regional benevolent fund, a tradition which was brought back in 2023 with The Big Variety Show at The Maddermarket Theatre in Norwich.

In 2023 the Branch was renamed to the East Anglia Branch, in line with the Branch Reform.

In May 2023, Joseph Ballard, our Branch Secretary (and also Variety, Circus and Entertainers Councillor on Equity Council) was awarded the Honorary Lifetime Membership Award at the Equity Conference. This was for his services to the Branch, contributions to upholding Variety as an art form, his activism with his own situation in mind regarding Storytime and the attacks upon him, and administering our Benevolent Funds in lockdown and raising more funds for them to help more members.