Equity will have a large presence at this year's Edinburgh Fringe and Festivals. With drop-in sessions, a series of meet-ups and events for members, plus Equity staff visiting shows throughout August to chat with members and non-members about the union and their experiences in the industry. Find details of these, and more, below.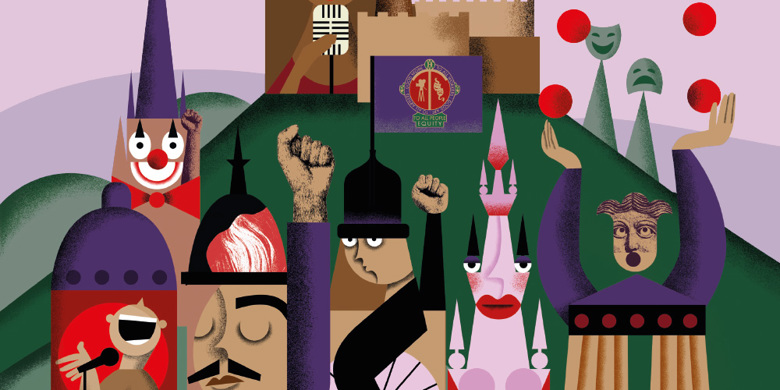 Member drop-in helpdesk
The Equity drop-in enquiries desk is in operation again this year at the Edinburgh Festival Fringe. We will be at Fringe Central: Artist Hub each Tuesday and Thursday from 11am to 1pm. 
Tuesday 8th, 15th, 22nd: 11am - 1pm
Thursday 10th, 17th, 24th: 11am - 1pm
The Artist Hub is located at, Quaker Meeting House, 7 Victoria Terrace, Victoria St, Edinburgh EH1 2JL
The Equity team can be contacted on scotland@equity.org.uk and by phone on Adam Adnyana 07701 373303 or Marlene Curran 07710 049271
If you do have issues during the fringe or festivals we do recommend you raise them with us as soon as possible as it's often easier to resolve these issues during the festivals rather than afterwards.
Contact Scotland@equity.org.uk
---
Street Performers
Equity staff will be meeting street performers throughout the Fringe on pitches along the Royal Mile and at the daily 10am draw.
We will be running an open meeting for street performers at the draw from 9.30am on Thursday 10th August to inform people about the new Street Performers Network and our work to defend the rights of street performers and tackle the issues they face.
---
Event for comedians and other self-employed performers
On Wednesday 16th August from 1pm-5pm we will hold an event for Equity members and their guests.
This will include two interactive sessions plus drinks, canapés and networking.
The sessions will be:
AI Toolkit – Session on protecting yourself and your creative output in the age of Artificial Intelligence.
Comedians' toolkit – Forming a legally binding contract via Instagram, email or WhatsApp, knowing how to set and improve your rates, using Equity's Comedians' Charter to build a better industry and more besides.
We'll also be launching the updated version of Equity's guide to contracts, with copies available to pick up, followed by a selection of delicious canapés, wine and soft drinks and an opportunity to network with other performers.
You can register for this evening by clicking here. Places are limited.
The event will take place at Bonnie and Wild - Level 4, St James Quarter, 415-417 St James Square, Edinburgh EH1 3AE.
Register Now
---
Equity Actor-Musician Meet-up
Pleasance Courtyard, Tuesday 22nd, 11am
Grab a tea or coffee and connect with other actor-musicians at Fringe
---